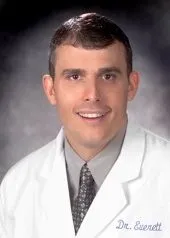 Dr. Dwaine Everett - a respected Chiropractic Physician here in Sebring for 25 years and has expanded his practice to include rehabilitation services, nutritional education, DOT physicals, custom orthotic fitting and manual therapy to Sebring and surrounding communities.
He is a member of the Ohio State Chiropractic Association and the American Chiropractic Association. He has completed continuing education in sports medicine and has served his community as team physician at Sebring Mckinley and West Branch High School in recent years. He has been married for 23 years to his wife, Kristen and has 4 children, Austin, Nick, Reed and Oneal. He and his wife are alumni of West Branch Local Schools where his children attend. He and his family are also members of Damascus Friends Church.
Dr. Everett has a passion for serving his community in which he was raised. His philosphy is to love, give and serve.